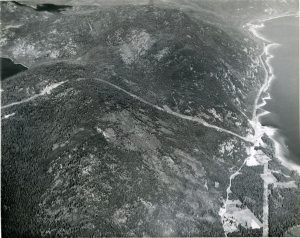 : 988.027.39
:
:
: 1953--
: 1950s, aerial image, BC Hydro, landslide/rockslide, Lower Arrow Lake, Needles North Road, Whatshan hydroelectric station, Whatshan Lake, and Whatshan landslide (1953)
: Needles and Whatshan Lake
:
1 b/w photograph (25.4 cm x 20,4 cm)
:
Aerial view of ridge between Whatshan Lake (left) and Lower Arrow Lakes (right), 1953. Transmission line from Whatshan Dam to Whatshan hydroelectric station and tunnel exit runs through centre. Debris and scar from August 1953 landslide that destroyed hydroelectric station at centre right. Needles North Road runs along shore of Lower Arrow Lake. Needles just off-camera at bottom right.
Purchase Print