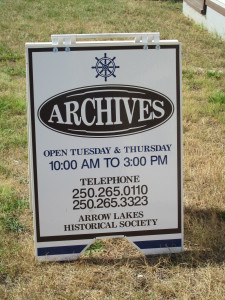 We are located at the rear entrance of the Centennial Building at 92 – 6th Avenue NW in Nakusp. We are open Tuesday and Thursday from 10 am to 3 pm.
*NOTE: During January and February 2020, our office hours will be 12 pm to 3 pm.
Email: [email protected]
Facebook: https://www.facebook.com/arrowlakeshistoricalsociety/
Arrow Lakes Historical Society
Box 819
Nakusp
British Columbia, Canada
V0G 1R0
Call us at (250) 265-0110 during office hours, or leave a message for possible special arrangements.
Also ask us about membership — just $5 per year or $50 for a lifetime membership.
Location map
RESEARCH FEES
B&W PHOTOCOPIES: 8.5X11" – 25 cents each
11×17" – 50 cents each
PHOTOGRAPHIC REPRINTS:
Colour or B&W:
Photograph paper 5X7" $6 each
8×10" $10 each
Regular paper 5×7" $4 each
8×10" $7 each
Thicker paper 5×7" $5 each
8×10" $8 each
DIGITAL COPIES OF PHOTOGRAPHS:
JPGs via email – $5 per image
JPGs via CD – $5 per image
ARCHIVAL RESEARCH – $25 per hour for our time if we do the research.
If you come into the office and do your own research with assistance, a donation is expected. We will find the books, newspapers, photographs that you need. If you want copies of photos or need the use of the photocopier, the prices above apply.
IMPORTANT NOTES:
– Reproduction costs stated above reflect actual costs to the Archives and are subject to change without notice.
– Shipping charges if a small light envelope will be $2 each.
– We have no way to copy large maps or documents but you can use your camera successfully.
– Our newspapers are bound and cannot be copied without damage to the book. However we have made copies before binding of most items and these can be found in our categorized looseleafs.
POSTAGE FOR OUR HISTORY BOOKS:
– $15 for one book
– $20 for two books
– $20 per book for Eastern Canada and the US locations.
– For all other destinations, we will have to check costs with Canada Post.
–
TO USE OUR PHOTOGRAPHS AND INFORMATION FOR YOUR ORGANIZATION:
– There will be a cost for the use of our archive material of $50 plus a cost of $50 for the use of our projectors and someone from our organization will have to be on hand to protect our material.