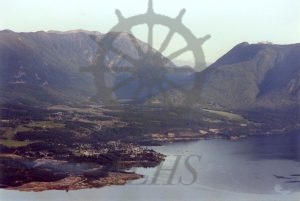 : 2021.002.2.7
:
:
: 1990-09-14 - --
: 1990s, 408 Tactical Helicopter Squadron, aerial image, Allshouse Peak, Box Mountain, Kuskanax Creek, Kuskanax Point, Rothwell Bay, Summit Peak, and Upper Arrow Lake
: Brouse, Crescent Bay, Glenbank, and Nakusp
:
1 colour photograph (15.1 cm x 10.2 cm)
:
Aerial view of Nakusp and vicinity, 14 September 1990. View is looking south east from above Upper Arrow Lake. Kuskanax Creek delta at bottom left. Village of Nakusp and Rothwell Bay just below centre. Glenbank at left. Brouse just left of centre. Crescent Bay at right centre. Summit Peak at top left. Box Mountain at right. Photo taken by Harvey Truax of Nakusp aboard a 408 Tactical Helicopter Squadron helicopter.
Purchase Print