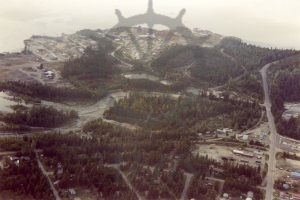 : 2021.002.2.6
:
:
: 1990-09-14
: 10th Avenue NW, 1990s, 408 Tactical Helicopter Squadron, aerial image, Canadian Pacific Railway, Canyon Road, Columbia River Shake & Shingle, forestry, Highway 23, Highway 6, Kuskanax Creek, Kuskanax Point, Nakusp & Slocan Railway, sawmill, and Upper Arrow Lake
: Nakusp
:
1 colour photograph (15.1 cm x 10.2 cm)
:
Aerial view, Kuskanax Creek delta industrial area (top), 14 September 1990. View is looking northwest. Upper Arrow Lake at top. Kuskanax Creek runs through centre. Highway 23 at right. 10th Avenue NW and Canadian Pacific (Nakusp & Slocan) Railway right-of-way at bottom. Photo taken by Harvey Truax of Nakusp aboard a 408 Tactical Helicopter Squadron helicopter.
Purchase Print