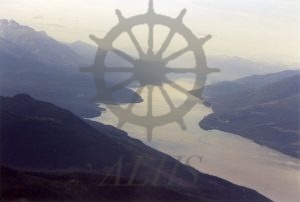 : 2021.002.2.13
:
:
: 1990-09-14
: 1990s, 408 Tactical Helicopter Squadron, aerial image, Cape Horn (Upper Arrow Lake), Monashee Mountains, Mount Burnham, Saddle Mountain, Selkirk Mountains, and Upper Arrow Lake
: Cape Horn, Nakusp, Saddle Mountain, and Shoreholme
:
1 colour photograph (15.1 cm x 10.2 cm)
:
Aerial view of Upper Arrow Lake north of Nakusp, 14 September 1990. View is looking north. Cape Horn on east shore just right of centre. Mount Burnham at top right. Photo taken by Harvey Truax of Nakusp aboard a 408 Tactical Helicopter Squadron helicopter.
Purchase Print