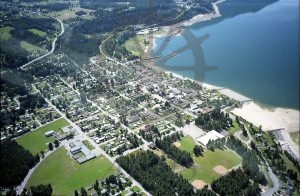 : 2020.007.5.34.10
: R21-10A
:
: 2001-06-07
: 2000s, aerial image, Highway 6, Nakusp & District Sports Complex, Nakusp Elementary School, Nakusp Public Beach, Nakusp Recreation Park, Nakusp Secondary School, Rothwell Bay, Rothwell Point, school, and Upper Arrow Lake
:
1 colour negative (35 mm)
:
Aerial view of Nakusp looking southeast, 7 June 2001. Nakusp Elementary School and Nakusp Secondary School at bottom left. Nakusp Recreation Park at bottom centre to bottom right. Nakusp Public Beach at centre right. Glenbank and Highway 6 East at top left. Rothwell Point and Highway 6 South atop centre. Upper Arrow Lake at right. Downtown Nakusp at centre.
Purchase Print