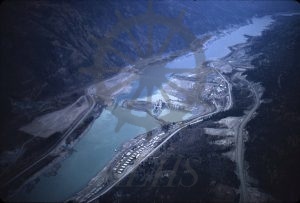 : 2018.027.9.4
: P25-2
:
: 1967-12-11
: 1960s, aerial image, Arrow Lakes flooding (Columbia River Treaty), BC Hydro, Bluffs Forest Service Road, Broadwater Road, Columbia River, dam, dam construction, Hugh Keenleyside Dam, and Lower Arrow Lake
:
1 colour slide (35 mm)
:
Aerial view, High Arrow Dam (later Hugh Keenleyside Dam) under construction, Columbia River west of Robson, 11 December 1967. North is at right. Broadwater Road runs through image along north shore from bottom left to top right. Borrow pit road (later Bluffs Forest Service Road) runs above Broadwater Road at bottom right.
Purchase Print