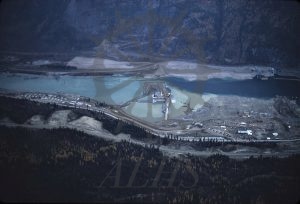 : 2018.027.9.3
: P25-1
:
: 1967-12-11
: 1960s, aerial image, Arrow Lakes flooding (Columbia River Treaty), BC Hydro, Bluffs Forest Service Road, Broadwater Road, Columbia River, dam, dam construction, Hugh Keenleyside Dam, and Lower Arrow Lake
:
1 colour slide (35 mm)
:
Aerial view, High Arrow Dam (later Hugh Keenleyside Dam) under construction, Columbia River west of Robson, 11 December 1967. North is at bottom. Broadwater Road runs left-to-right through image at centre. Borrow pit road (later Bluffs Forest Service Road) runs above Broadwater Road at bottom.
Purchase Print