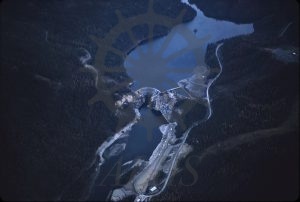 : 2018.027.8.9
: P24-13
:
: 1967-11-17
: 1960s, aerial image, Boundary Access Road, Boundary Dam, Boundary Lake (Washington), dam, East Side Road (Metaline Falls), Pend-d'Oreille River/Pend Oreille River, and Seattle City Light
:
1 colour slide (35 mm)
:
Aerial view, newly-completed Boundary Dam impounding Boundary Lake, Pend Oreille (Pend-d'Oreille) River immediately southwest of Nelway border crossing, Pend Oreille County, Washington, 17 November 1967. North is at bottom. Boundary Access Road loops north of dam at centre and runs to top right of photo, East Side Road at left.
Purchase Print