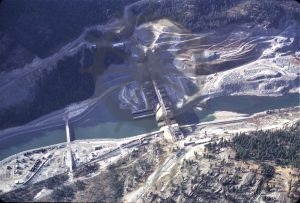 : 2018.027.7.23
: P24-3
:
: 1969-09-16
: 1960s, aerial image, dam, dam construction, Highway 37 (Montana), Kootenay River/Kootenai River, Libby Dam, National Forest Development Road 228, Souse Gulch Road, US Army Corps of Engineers, and Warland Road
:
1 colour slide (35 mm)
:
Aerial view, Libby Dam under construction, Kootenai River north of Jennings, Montana, 16 September 1969. North is at right. Warland Road crosses Kootenai River to south of dam at left. Montana Highway 37 at bottom right. National Forest Development Road 228 at top left. Souse Gulch Road and Libby Dam Visitor Center immediately to top left of dam below Road 228.
Purchase Print