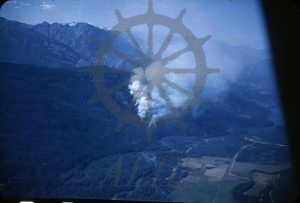 : 2018.027.5.5
: P21-5
:
: 1960-07-12
: 1960s, aerial image, Broad Fire (1960), Canadian Pacific Railway, Columbia & Kootenay Railway, fire, forest fire, Gladsheim Peak, Perry Ridge, Selkirk Mountains, Slocan Lake, Slocan River, and Valhalla Range
: Lemon Creek and Slocan City
:
1 colour slide (35 mm)
:
Aerial view, Broad Fire, north end of Perry Ridge, Lemon Creek, 12 July 1960. Slocan River runs from centre right to bottom centre of photo. Canadian Pacific Railway runs through farms at bottom right. South end of Slocan Lake and Slocan Bluffs at top right. Slocan City at centre right. Gladsheim Peak (Valhalla Range) at top left.
Purchase Print