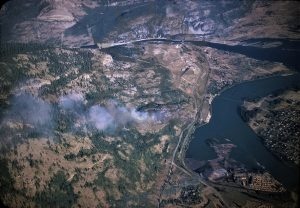 : 2018.027.5.22
: P22-2
:
: 1960-07-26
: 1960s, aerial image, Brilliant Dam, Celgar, Columbia River, dam, fire, forest fire, Indian Fire (1960), Kootenay River/Kootenai River, Mount Sentinel, Robson Access Road, and sawmill
: Brilliant, Castlegar, and Raspberry
:
1 colour slide (35 mm)
:
Aerial view, Indian Fire, south slope of Mount Sentinel between Raspberry and Brilliant opposite downtown Castlegar, 26 July 1960. Columbia River and Castlegar at right. Kootenay River at top. Brilliant Dam on Kootenay River just left of top centre. Robson Access Road runs from Brilliant (point of land at river confluence top right) to Celgar mill in Raspberry at bottom of image.
Purchase Print