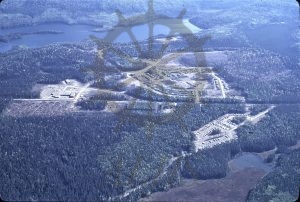 : 2018.027.12.7
: P27-7
:
: 1969-09-10
: 1960s, aerial image, building construction, Centennial Drive, Chichouyenily Drive, Highway 39, Mackenzie Boulevard, mobile home park, Morfee Lakes, road construction, and Woodland Mobile Home Park
:
1 colour slide (35 mm)
:
Aerial view, new townsite of Mackenzie, 10 September 1969. North is at left. Mackenzie Boulevard (Highway 39) runs left-to-right through centre of image. Morfee Lakes at top. New downtown area/central business district being cleared at left. Centennial Drive leads from new commercial area between residential area and Morfee Lakes. Woodland Mobile Home Park along Chichouyenily Drive at bottom right.
Purchase Print