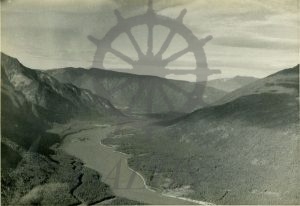 : 2017.007.1.15
:
:
: 1962-08-20
: 1960s, aerial image, Columbia River, Mount Ingersoll, Saddle Mountain, Swan Island, and The Narrows
: Arrow Park, Birds Landing, East Arrow Park, East Demars, Glendevon, and West Demars
:
1 b/w photograph (17.2 cm x 12.2 cm)
:
Aerial view of The Narrows, Columbia River, 20 August 1962. Scalping Knife Mountain at left, Mount Ingersoll at centre, and Saddle Mountain at right. Glendevon at centre on right bank of river. Swan Island at left of centre. Highway 6 runs along left bank of river. Arrow Park below Mount Ingersoll. West Demars at bottom. Photo by Hans Leu, Burton.
Purchase Print