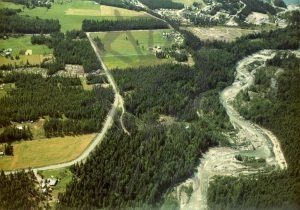 : 2016.003.207.88
:
:
: 1983-- - --
: 1980s, 626 Wells Road, 632 Wells Road, aerial image, Columbia Heights, farms, Glenbank Road, Heppner Road, Home Ranch, Kuskanax Creek, Parent; Milton, Parent; Rosemarie (Portelance), and Wells Road
:
1 colour photograph (12.6 cm x 8.9 cm)
:
Aerial view of Milton Parent/Rosemarie Parent property (just above centre), 626 Wells Road, Glenbank, 1983. The Parents would build their home on the property the following year. View is looking south. Kuskanax Creek at right. Wells Road curves into Heppner Road at bottom left. Home Ranch and Glenbank Road at top left. Village of Nakusp (Columbia Heights neighbourhood and PIPPCO poleyard) at top right.
Purchase Print