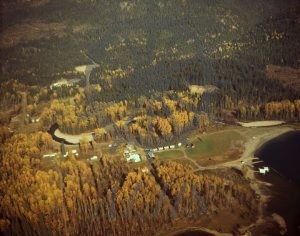 : 2014.026.643
: N60A-16
:
: 1974-10-
: 1970s, aerial image, Andrew Street, gas station, hotel, Kellie Street, Lardeau Creek, Lardeau Street, marina, store, Trout Lake, Trout Lake Resort, Trout Lake Resort Marina, Trout Lake Resort Store, Trout Lake wharf (modern), Vancouver Street (Trout Lake), Westside Road (Park Street), and Windsor Hotel (Trout Lake)
:
1 colour negative (60 mm)
:
Aerial view of downtown Trout Lake from south-southwest, October 1974. Kellie Street with Trout Lake Resort cabins (right) and Windsor Hotel (large brown building across street on corner) seen at centre. Lardeau Creek runs through image.
Purchase Print