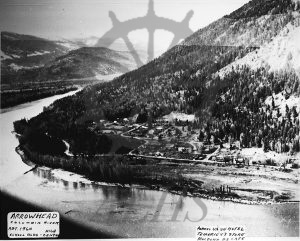 : 2014.003.5213
: F7-22A
:
: 1960--
: BC Hydro and Charlie Watson
: 1960s, aerial image, Arrowhead School, Columbia River, hotel, school, store, Temrick's Red & White Store, Union Hotel, and Upper Arrow Lake
:
1 b/w negative (35 mm)
:
Aerial view, town of Arrowhead, ca. 1960. Columbia River enters Upper Arrow Lake at left. Main body of lake at bottom. Front Street runs left-right (west-east) through centre of photo. Arrowhead School in field at centre above townsite. Temrick's Red & White Store (former Union Hotel/Crawford's General Store/Macdonald's cafe) on Front Street above caption at right.
Purchase Print