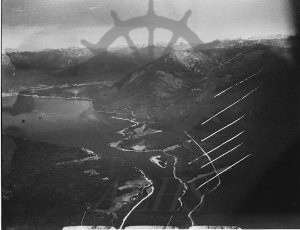 : 2014.003.4714
: E26-15A
:
: 1962--
: 1960s, aerial image, Box Mountain, Columbia River, Dispatch Island, farms, Highway 6, Morton Ranch, Selkirk Mountains, The Narrows, Upper Arrow Lake, and White; Jack
: East Demars, Nakusp, and West Demars
:
1 b/w negative (35 mm)
:
Aerial view of Upper Arrow Lake and top end of The Narrows, Columbia River, ca. 1962. Nakusp seen at top left. Morton ranch/East Demars at centre. West Demars at bottom centre to left. Highway 6 runs above lakeshore on east side. Horkin & Hoy farms at centre on west wide. Jack White farm immediately to south of Morton property across from Dispatch Island. Farm near bottom of image near east side was Pabst's, then Pratt's, then Val Morton's.
Purchase Print