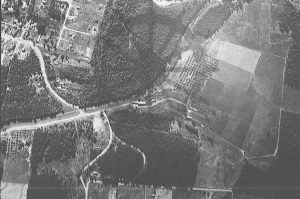 : 2014.003.1721
: B40-6
:
: 1952-- - --
: 1950s, aerial image, Canadian Pacific Railway, Church Hill Road, farms, Government Hill, Government Hill Road, Highway 6, Home Ranch, Nakusp & Slocan Railway, and Shakespeare Road
:
1 b/w negative (35 mm)
:
Detail of 1952 forestry air photo of Nakusp focusing on northeast Nakusp and extreme west Glenbank (Home Ranch, future Valhalla subdivision, Government Hill, and Shakespeare Avenue). Nakusp & Slocan (Canadian Pacific) Railway runs through image. Northeast corner of Nakusp village at top left. Highway 6 switchbacks up Government Hill at left. Church Hill Road meets Shakespeare Avenue at bottom. Home Ranch occupies right half of image.
Purchase Print