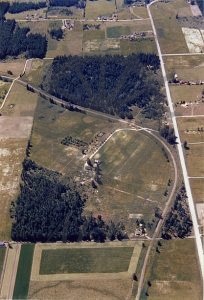 : 2004.004.217
:
:
: 1955-- - 1962--
: 1950s, aerial image, Baird farm (Brouse), Canadian Pacific Railway, Highway 6, Nakusp & Slocan Railway, Nakusp Centennial Golf Club, and Zacks Road
:
1 colour photograph (10.3 cm x 15.1 cm)
:
Aerial view of Baird/Leverington farm looking west, west end of Brouse, ca. 1950s. This farm was converted in to the Nakusp Centennial Golf Club over 1966-1967. Highway 6 runs through image at right. Canadian Pacific (Nakusp & Slocan) Railway meanders through photo bounding the north side of the Baird/Leverington farm. Zacks Road and south end of Glenbank at top.
Purchase Print