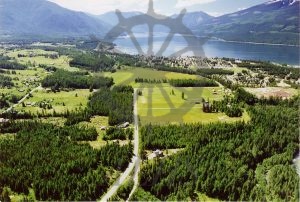 : 2004.004.215
:
:
: 1988-- - 1995--
: 1990s, aerial image, Box Mountain, farms, Glenbank Road, Home Ranch, Mountain Meadow, Saddle Mountain, Scalping Knife Mountain, Shakespeare Road, Upper Arrow Lake, and Wells Road
:
1 colour photograph (15.2 cm x 10.2 cm)
:
Aerial view looking due south down Wells Road (runs from bottom of image through to centre), Glenbank, ca. 1980s-1990s. Glenbank Road runs left-right (east-west) through centre of image between Home Ranch and Oli Halldorson farm. Shakespeare Road at left. Nakusp and Upper Arrow Lake at top right. Mountains at top, L-R: Box Mountain, Mountain Meadow, Scalping Knife Mountain, Saddle Mountain.
Purchase Print