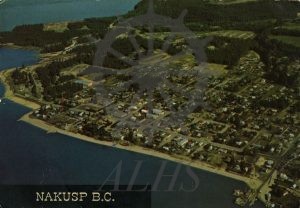 : 2002.024.2
:
:
: 1970-08-
: 1970s, aerial image, postcard, and Upper Arrow Lake
: Nakusp
:
1 colour postcard (14.8 cm x 10.1 cm)
:
Postcard showing aerial view of Nakusp townsite, Upper Arrow Lake, taken August 1970 by Ellis Anderson of Creston. Inscription: 'The chief centre of the Arrow Lakes district overlooks turquoise Upper Arrow Lake. This long lake chain, a part of the Columbia, forms the finest north sout waterway in interior British Columbia. Until 1954 stately sternwheelers plied the tranquil waters, and Nakisp had a noteworthy shipyard for the assembly and repair of boats. From here a deep valley leads through the mountains to the renowned Slocan mining country. Good agricultural land and forests, combined with Nakusp's natural function as a transport nucleus, have laid the foundation for a vigorous, expanding community. Beautiful scenery, lakes and hot springs are powerful tourist magnets. The story of frontier life in this lovely, evergreen valley is superbly recounted in K. Johnson's "Pioneer Days of Nakusp and the Arrow Lakes."
Purchase Print