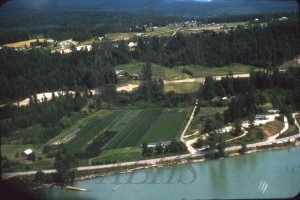 : 1999.019.442
: M27-9
:
: 1968-07-24
: 1960s, aerial image, Arrow Lakes flooding (Columbia River Treaty), Bjorkland mink farm, Celgar, farms, Highway 6, road construction, Rothwell Bay, Spicer Farm, and Upper Arrow Lake
:
1 colour slide (35 mm)
:
Aerial view of Spicer Farm, Nakusp, 24 July 1968. Original alignment of Highway 6 South and Rothwell Bay (Upper Arrow Lake) at bottom. Paul Bjorkland house at top and Celgar offices at right. New Highway 6 South under construction at centre in advance of flooding from BC Hydro the following the year. Glenbank and Highway 6 East at top.
Purchase Print