We will be trying to have the shows on the 3rd Friday of the month at the new archives office at the back of the Centennial building at 92 – 6th Ave NW. This is where the Museum and Library are already housed. The Paddlewheel Tourist Booth is next door.
Admission is by donation and there will be coffee tea and goodies.
In February on Friday the 20th at 7 p.m. we will be showing an old favourite slide show called Our Coloured Past. We've revamped the show for 2015 by adding brand-new images and footage, and have restored many of the older slides as well. This year marks the 75th anniversary of colour photography in Nakusp. This is the only time the show will run in 2015, so don't miss out!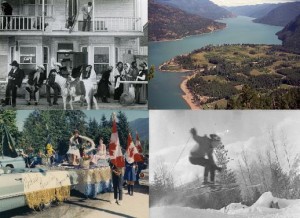 In March on Friday the 20th at 7 p.m. we will be showing History Comes Alive which has only been shown once before. This show was standing room only the first time we showed it, so make sure to come early.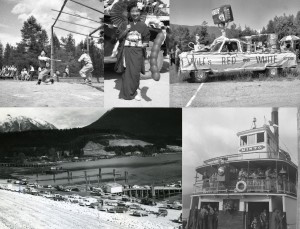 In April on Friday the 17th at 7 p.m. we will be showing ICHI100, a series of photographs and movies that were taken starting in the 1940s when Ichiro Shiino came to Nakusp. For over half-a-century, Ichi documented the lifestyle of the Arrow Lakes with his photographs and movies. He took photos of many occasions such as July 1st celebrations and graduations, as well as landscapes and industrial imagery. His movies are unique in that they depict the last run of the Minto and the tugboat industry that occurred up until 1968 to name a few. Ichi would have been 100 years old in June and this is a tribute to him.