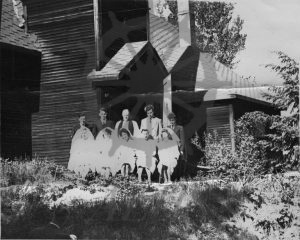 :
:
:
: 1950-- - 1959--
: 1940s, church, Jackson; Reginald Jr., Jordan; Fred, Mitchell; Rev. Canon Thomas, Murphy; Winnie (Jordan), Parks; Virginia, Smith; Les, St. Agnes Anglican Church (original), Wegner; Dorothy (Jordan), Williams; Don, and Williams; Margaret (Marshall)
: Edgewood
:
1 digital image (3214 x 2513 pixels)
:
Group portrait in front of St. Agnes Anglican Church, Edgewood, ca. 1950s. TOP(l-r): Fred Jordan, Reginald Jackson Jr., Reverend Canon Thomas Mitchell, Donald Williams, Leslie Smith. BOT: ?, Winnie Jordan, Dorothy Jordan, Margaret Williams, Virginia Parks.
Purchase Print