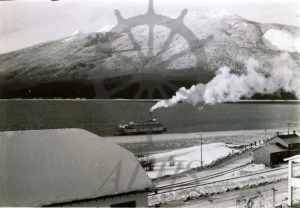 : 996.16e
:
:
: 1950-- - 1954--
: Arrow Lakes Historical Society
: Beau Vista Motel, Canadian Pacific Railway, Canadian Pacific Railway station (Nakusp), hotel, Nakusp & Slocan Railway, Saddle Mountain, SS Minto, sternwheelers, and Upper Arrow Lake
: Nakusp
:
Top half of 1 b/w photograph diptych (14.7 cm x 21.6 cm)
:
SS Minto sailing on Upper Arrow Lake, Nakusp, winter, ca. 1950-1954. View is from above Beau Vista Motel (in foreground). Photo is part of diptych with 996.16f. Canadian Pacific (Nakusp & Slocan) Railway runs through centre with CPR station at right. Saddle Mountain at top.
Purchase Print