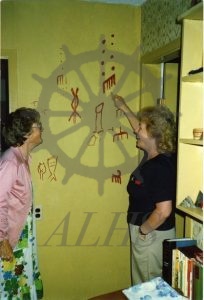 : 996.007.1A
:
:
: 1987-05- - 1987-09-
: Arrow Lakes Historical Society
: 1980s, Blyth; Marie, Caribou Point, First Nations, pictograph, and Smith; Eileen
: Nakusp
:
1 colour photograph (10.1 cm x 15.0 cm)
:
Eileen Smith (right) pointing to reproductions of indigenous pictographs that were destroyed ca. 1967 at Caribou Point between Burton and Fauquier during construction of new Highway 6 in advance of the flooding of the Arrow Lakes by the Keenleyside Dam. The pictographs were recreated by Marie Blyth (left) on the wall of her house in Nakusp as seen here in summer 1987. The recreated pictographs were themselves destroyed in late 1994 after the house was sold and the walls painted over.
Purchase Print