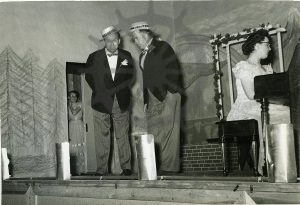 : 993.011.1A.7
:
:
: 1951--
: 1950s, 409 Broadway Street W, Canadian Girls In Training, Larson; Warren, Middlemass; Mary, music, Opera House (Nakusp), play/theatre, Robinson; Shirley, Smith; Victor, and Woldum; Doreen
: Nakusp
:
1 b/w photograph (17.8 cm x 12.7 cm)
:
Warren Larson (left) and Vic Smith (right) perform on stage at Cavalcade of Song, Opera House, Nakusp, 1951. Shirley Robinson or Mary Middlemass plays piano at right. Doreen Woldum in doorway at back. Event was held by Nakusp CGIT chapter to raise funds for Robertson Memorial United Church piano fund. Photo by Ichiro Shiino. Inscription on rear by Rev. Basil Hartley: 'Return to Rev B Hartley, Nakusp. Warren Larson—Victor Smith (Miss Shirley Robinson PH Nurse) [I think Mary Middlemass - Milton Parent] in Cavalcade of Song put on by Nakusp CGIT in Opera House in aid Robertson Memorial Cnited Church piano fund. I. Shiino photo'.
Purchase Print