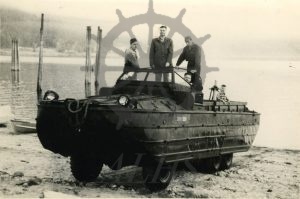 : 992.017.5
: F48-3
:
: 1956-- - 1959--
: 1950s, amphibious vehicle, Columbia Machinery, Dolter; Laurie A., Mueller; Gerhard, Mueller; Herb, Strohmaier; Ottmar, Upper Arrow Lake, and Weinzierl; Frank
: Nakusp
:
1 b/w photograph (12.2 cm x 8.2 cm), 1 b/w negative (35 mm)
:
Group posing aboard amphibious truck, Nakusp waterfront, Upper Arrow Lake, late 1950s. L-R: Gerhard Mueller, Laurie Dolter (Royal Canadian Mounted Police), Ottmar Strohmaier (top), Frank Weinzierl (bottom), Herb Mueller. G. Mueller, Strohmaier, and Weinzierl were operators of Columbia Machinery and did metal work for Summit Lake Ski Area. According to Bert Steenhoff, veterans were allowed to buy military surplus. The depot for this area was in Vernon. Three of these amphibious craft were purchased for use in beachcombing on the Arrow Lakes, but it didn't work out.
Purchase Print