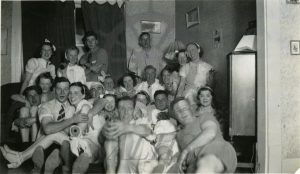 : 992.003.24
:
:
: 1941-- - 1942--
: 1940s, Barrow; Edith (Pratt), Bowes; Herb, Davis; Milt, Fowler; Kathleen 'Kay', Gardner; Hunter Jr., Gardner; Phyllis (Sheffield), Harris; John Elmslie 'Jack', Harris; Molly (Islip), Harvey; Nellie, Johnson; Doris (Harvey), Jones; Albert Robertson 'Roy', Matheson; Archie, Matheson; Mary, Millar; Alice (Brown), Parent; Della (Leveque), Poole; Lillias (Kerr), Truscott; Len, Ward; Mabel (Bjorkland Alpsen), and Woods; Fred
: Nakusp
:
1 b/w photograph (13.4 cm x 8.9 cm)
:
Group portrait of partygoers in Archie Matheson & Mary Matheson's living room, Nakusp, ca. 1941-1942. TOP(l-r): Kay Fowler, Mabel Alpsen, Fred Woods, Archie Matheson. MID: Roy Jones, Doris Harvey, Hunter Gardner, Della Parent, Edith Barrow, Milt Davis, Nellie Harvey, Mary Matheson, Molly Islip. BOT: Jack Harris, Lillias Kerr, Phyllis Sheffield, ?, ?, ?, Len Truscott, Herb Bowes, Alice Brown.
Purchase Print