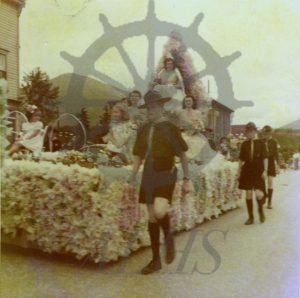 : 992.003.16
:
:
: 1952-07-01
: 1950s, 401 Broadway Street W, Abriel office (401 Broadway Street W), Broadway Street, Canada Day, Dalzell; Lorraine (Wensley), Marcolli; Betty, Masonic Building (Nakusp), Milner; Ellinore (Nixon), Nakusp Diamond Jubilee, parade, Queen of the Arrow Lakes, Rorick; Linda, Scouts/Cubs, Simard; June (Gardner), and Woldum; Doreen
: Nakusp
:
1 colour photograph (8.9 cm x 8.9 cm)
:
Boy Scouts accompany Queen of the Arrow Lakes royalty sitting on float, July 1st parade, Broadway Street, Nakusp, 1 July 1952. TOP: Lorraine Wensley (1951 queen). MID (l-r): June Gardner (1952 queen, obscured), Doreen Woldum, Ellinore Nixon. BOT: Betty Marcolli, Linda Rorick. Old Thomas Abriel office building at left; Masonic Building in background.
Purchase Print