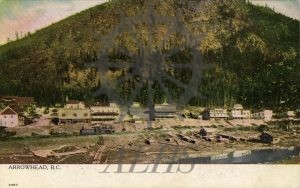 : 990.013.22
: F29-20
:
: 1906-07- - 1906-11-
: Warwick Bros. & Rutter Limited
: 1900s, Canadian Pacific Railway, Front Street (Arrowhead), Mount Sproat, postcard, train, and Upper Arrow Lake
:
1 colourised postcard (13.8 cm x 8.7 cm), 1 b/w negative (35 mm)
:
Colourised postcard showing Upper Arrow Lake waterfront and buildings of Front Street at Arrowhead during rebuilding of town following July 1906 fire (town was rebuilt by November). Mount Sproat in background. Canadian Pacific Railway runs through bottom centre. Printed by Warwick Bros. & Rutter, Limited, Toronto.
Purchase Print