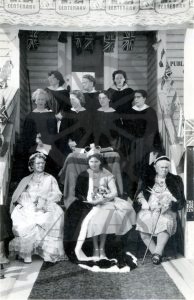 : 986.87.1.4
:
:
: 1958-04-27
: 1950s, 1958 British Columbia centennial, Abbey; Barb (Williams), choir, church, Jordan-Williams; Blanche, music, Nakusp Courthouse, Queen of the Arrow Lakes, Reyden; Sophia (Bergwerf), and Robertson Memorial United Church
: Nakusp
:
1 b/w photograph (11.5 cm x 15.8 cm)
:
Robertson Memorial United Church choir singing at 1958 Nakusp Centennial Queen ceremony, steps of Nakusp Government Building (Nakusp Courthouse), 27 April 1958. The 1958 Queen of the Arrow Lakes pageant was part of opening day of Nakusp's British Columbia centennial celebrations. Seated at bottom: Sophia Reyden (contestant representing Kinsmen Club of Nakusp and eventual winner), Barbara Williams (1957 Queen of the Arrow Lakes), Blanche Jordan-Williams (contestant representing Rotary Club of Nakusp). Photo by Willy Frick ('Picture Willy') and is part of framed display showing six photographs Picture Willy was selling at Arrow Lakes Hospital to commemorate the ceremony.
Purchase Print