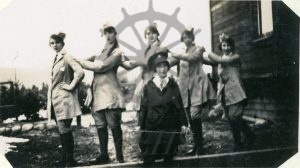 : 986.4.1.26.1
:
:
: 1920-03- - --
: 1920s, 312 3rd Avenue NW, Calhoun; Inez (Carlson), Harvey; Nellie, Herridge; Emma (Masters), Kill Kare Club, Mathers; Alice (Leveque; Akerman), McCormack; Pearl (Parent), Parent; Della (Leveque), and play/theatre
: Nakusp
:
1 b/w photograph (11.2 cm x 6.4 cm)
:
Actors in costume as part of The Foot-Light Revue, Kill Kare Klub vaudeville society, Leveque house (312 Grace Avenue), Nakusp, March 1920. The club performed at the Opera House, Nakusp, 25 March 1920. L-R: Emma Masters, Pearl Parent, Inez Carlson, Della Leveque, Nellie Harvey, Alice Leveque. Photograph found on page 26 of Kill Kare Klub scrapbook (accession number 986.4.1).
Purchase Print