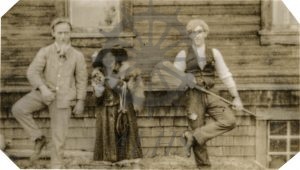 : 986.4.1.23.3
:
:
: 1920-03-
: 1920s, 312 3rd Avenue NW, Calhoun; Whitmore Pipes, Kill Kare Club, Leveque; Eugene Joseph 'Gene', Parent; Della (Leveque), and play/theatre
: Nakusp
:
1 b/w photograph (10.7 cm x 6.2 cm)
:
Actors in costume as part of The Foot-Light Revue, Kill Kare Klub vaudeville society, Leveque house (312 Grace Avenue), Nakusp, March 1920. The club performed at the Opera House, Nakusp, 25 March 1920. L-R: Gene Leveque ('Rube), Della Leveque ('Primo Donna'), Whitmore Calhoun ('Hank'). Photograph found on page 23 of Kill Kare Klub scrapbook (accession number 986.4.1).
Purchase Print