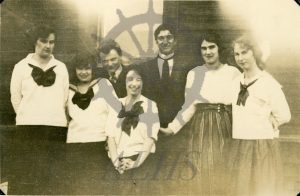 : 986.4.1.16.1
:
:
: 1920-03-
: 1920s, 312 3rd Avenue NW, Denholm; Amy (Gardner), Hoover; Marion (Bailey; Hoogerwerf), Keele; Maisie, Keys; Mary (Kirk), Kill Kare Club, Mann; Harold, Mathers; Alice (Leveque; Akerman), Peterson; Carl, and play/theatre
: Nakusp
:
1 b/w photograph (15.9 cm x 10.5 cm)
:
Cast portrait of Eight O'Clock in the Common Room, Kill Kare Klub vaudeville society, Nakusp, March 1920. The club performed at the Opera House, Nakusp, 25 March 1920. L-R: Amy Gardner, Maisie Keele, Harold Mann, Alice Leveque, Carl Peterson, Marion Bailey, Mary Kirk. Photograph found on page 16 of Kill Kare Klub scrapbook (accession number 986.4.1).
Purchase Print