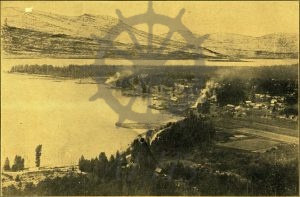 : 980.291
:
:
: 1954-- - 1956--
: Arrow Lakes Historical Society
: 1950s, Big Bend/Celgar mill (Nakusp), Canadian Pacific Railway workshop, Celgar, farms, forestry, sawmill, Spicer Farm, SS Minto, sternwheelers, and Upper Arrow Lake
: Nakusp
:
1 b/w photographic print (25.9 cm x 17.3 cm)
:
Bird's-eye view of Nakusp and Upper Arrow Lake as seen from Nakusp & Slocan Railway lookout, ca. 1954-1956. Spicer Farm at right. Highway 6 seen running past log booms just below centre. SS Minto on ways at shipyard next to Canadian Pacific Railway workshop at centre. Smoke visible from Celgar's Big Bend sawmill below Kuskanax Point left of centre.
Purchase Print