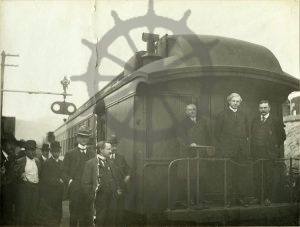 : 978.98
:
:
: 1912-03-
: 1910s, Abriel; Thomas, Bowser; William, British Columbia provincial election (1912), Bulger; Dave, Canadian Pacific Railway, Edwards; Lewis J., McBride; Richard, Nakusp & Slocan Railway, and train
: Nakusp
:
1 b/w photograph (20.9 cm x 15.8 cm on 23.0 cm x 19.5 cm matte)
:
Premier Richard McBride posing on Canadian Pacific (Nakusp & Slocan) Railway train during 1912 British Columbia provincial election campaign, Nakusp. Posing on train, L-R: William Bowser (Attorney-General), Richard McBride (Premier), Thomas Abriel. David Bulger is tall man in fedora to left of train. Lewis Edwards immediately in front of Bulger. 'Election 1908' erroneously written on margin of matte.
Purchase Print