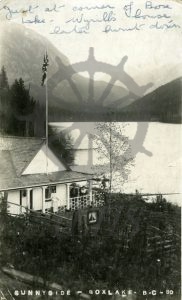 : 978.47
: C32-0A
:
: 1910-- - 1919--
: 1910s, Box Lake, postcard, Sunnyside (Wyrill farm), and Wyrill; Fred
: Brouse
:
1 b/w postcard (9.0 cm x 13.9 cm on 9.9 cm x 16.9 cm matte), 1 b/w negative (35 mm)
:
Ernest Bill postcard of Fred Wyrill house ('Sunnyside'), Box Lake, Brouse, ca. 1910s. Notes on front: 'Just at corner of Box Lake – Wyrill's house, later burnt down.' Notes on rear: 'Wyrill house down down – now Bob Hamling.' Notes from Milton Parent: 'Wyrill, Fred. Location - Box Lake, Brouse. Lot 9322 (north side of lake, equivalent of modern 1400 Highway 6). Sub owners - George Tillett. House burned 1927.' Wyrill was the teacher that followed Mirrie Chandler at Brouse School.
Purchase Print