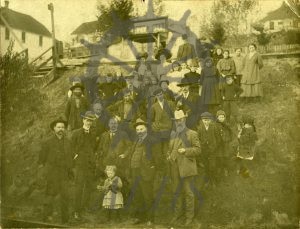 : 978.27
: D46-7
:
: 1909--
: Alf Moul
: 1900s, Abriel; Thomas, Bay Street, Bowes; Annie, Bulger; Dave, Edwards; Lewis J., Ehl store (Nakusp), Herridge; Norman Archibald 'Archie', Herridge; William 'Willie', Jamison; J., Scott; Walter, and Vanderburgh; Capt. Charlie
: Nakusp
:
1 b/w photograph (23.5 cm x 19.1 cm)
:
Large group posing on hillside below Charlie Ehl's confectionary, Bay Street, Nakusp, 1909. BOT (l-r): Walter Scott, Thomas Abriel, Lewis Edwards, Dave Bulger, J. Jamison. 2ND BOT: All unidentified. 3RD BOT: Archie Herridge, Mr. Herridge, Vanderburgh, ?, ?, ?. Annie Bowes and ? Gardner seen above Archie Herridge. All others unidentified. Inscription on rear: 'To Mr [Eugene] Leveque from [illegible] Moul'.
Purchase Print