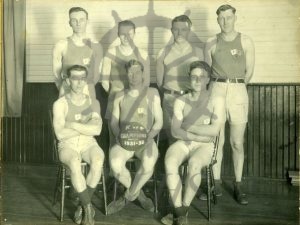 : 978.047.1
:
:
: 1932--
: 1930s, basketball, Bowes; Herb, Hallbauer; Ted, Harris; John Elmslie 'Jack', Mackintosh; R.H., Millar; Walter, Nakusp Knights of Pythias (basketball team), Parent; Joseph Jr., and Stanley; Arthur Brinsley Sheridan 'Art' Jr.
: Nakusp
:
1 b/w photograph (20.6 cm x 15.6 cm on 24.2 cm x 23.8 cm matte)
:
Nakusp Knights of Pythias basketball team championship photo, 1931-32. TOP(l-r): R.H. Mackintosh (guard), Art Stanley (forward), Ted Hallbauer (forward), Herb Bowes (guard). BOT: Joe Parent (forward), Jack Harris (centre), Walter Millar (guard).
Purchase Print