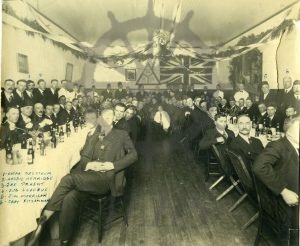 : 978.016
: D46-10
:
: 1915-- - 1926--
: Fitzsimmons; Capt. James, Herridge; Archie, Knights of Pythias, Knights of Pythias Hall, Leveque; Eugene, Morrison; James 'Jim', Parent; Joseph Jr., and Salstrom; Oscar
: Nakusp
:
1 b/w photograph (23.4 cm x 20.3 cm), 1 b/w negative (35 mm)
:
Knights of Pythias members gathered around dining tables, Knights of Pythias Hall, Nakusp, ca. 1910s-1920s. Oscar Salstrom 3rd from top left, Archie Herridge 4th from top left, Joe Parent Jr. 9th from top left. Eugene Leveque seated directly beneath centre of Knights of Pythias logo at back. Jim Morrison 3rd from top right, Capt. James Fitzsimmons 2nd from top right.
Purchase Print