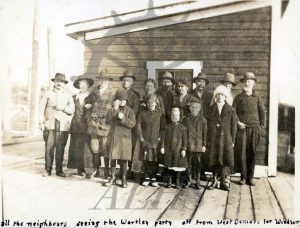 : 970.32.9.79
:
:
: 1918--
: 1910s, Columbia River, May; Alice, May; Fred, O'Brien; Emily (May), Slade; John 'Jack', The Narrows, West Demars wharf, Wortley; Ivy, Wortley; Mrs., and Wortley; W.
:
1 b/w photograph (10.7 cm x 8.2 cm)
:
West Demars residents gathered on West Demars wharf to see the Wortley family off as they leave for Windsor, Ontario, 1918. W. Wortley at top left. Mrs. Wortley fourth from top right. Jack Slade third from top right. Bottom row, L-R: ?, Ivy Wortley, Alice May, Fred May, Emily May. Photo found on page 36 of photo album 970.32.9.
Purchase Print