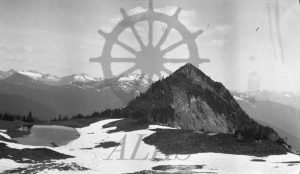 : 970.32.7.7
: P14-7
:
: 1933-- - 1950--
: alpine lake, Comaplix Mountain, Mount Sproat, Sable Creek, and Selkirk Mountains
:
1 b/w negative (9.2 cm x 14.5 cm)
:
Small alpine lake on slope of Mount Sproat north of Arrowhead, ca. 1930s-1940s. Notes by Charlie Slade: 'Little lake on E. side of Mt Sproat. Just to right of lake is where I saw the bear. Incomappleux Mtn. In distance, just to Left of rocky knob in foreground. To left of picture is mountain where the Teddy Glacier is. I was up to top of this mountain last week. It is at the head of Sable Cr.' Slade, a BC Forest Service ranger, was mauled by a grizzly here in August 1941.
Purchase Print