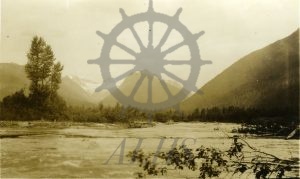 : 970.32.6.71
:
:
: 1933-- - 1955--
: Beowulf Peak, Boyd Creek, Charity Peak, Faith Peak, Hope Peak, Incomappleux River, McDougal Creek, Primrose Peak, Selkirk Mountains, and Virtue Mountains
: Camborne
:
1 b/w photograph (14.7 cm x 9.6 cm)
:
View looking north up Incomappleux River valley from mouth of Boyd Creek north of Camborne, ca. 1930s-1950s. Peaks surrounding glacier up McDougal Creek valley left of centre, L-R: Primrose Peak, Virtue Mountain, Faith Peak, Charity Peak, Hope Peak. West slope of Beowulf Peak at right. Inscription or rear: 'Looking up the Incomappleux river from the mouth of Boyd Creek. (16 miles up from Beaton) Valley leading up to the glaciers is McDougall Creek. The main river is in the valley to the right. The shoulder of the mountain to the right is part of the Battle range.' Note proper spelling of 'McDougal'.
Purchase Print