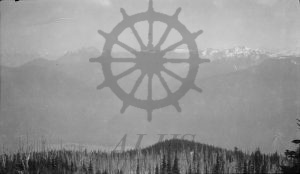 : 970.32.5.18
: O36-8
:
: 1929-- - 1932--
: 1930s, Big Sister Mountain, Columbia River, Dispatch Island, McDonald Creek, Mount Vingolf, Ruby Peak, Ruby Range, Rugged Peak, Saddle Mountain, Selkirk Mountains, Silver Mountain, The Narrows, Valhalla Range, and Whitewater Mountain
: East Demars and Saddle Mountain
:
1 b/w negative (14.0 cm x 8.5 cm), 1 b/w photograph (14.9 cm x 8.9 cm)
:
View looking east from side of Saddle Mountain across The Narrows (Columbia River) to Ruby Range (top left and top centre), Valhalla Range (top right) and McDonald Creek valley, Selkirk Mountains, ca. 1929-1932. Dispatch Island and East Demars visible at bottom left. Mountains, L-R: Whitewater Mountain (Slocan Range), Rugged Peak, Big Sister Mountain, and Ruby Peak (Ruby Range), Mount Vingolf (Valhalla Range), Silver Mountain.
Purchase Print