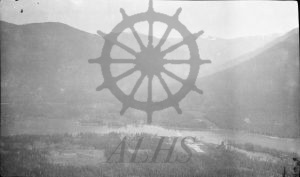 : 970.32.1.1
: O16-1
:
: 1920-- - 1929--
: 1920s, Columbia River, Dispatch Island, farms, Johnny Reid's Slough, McDonald Creek, Selkirk Mountains, The Narrows, and West Demars wharf
: East Demars and West Demars
:
1 b/w negative (14.0 cm x 8.5 cm), 1 b/w photograph (14.8 cm x 8.9 cm)
:
Bird's-eye view looking east of West Demars (bottom) and East Demars (centre), ca. 1920s. The Narrows (Columbia River) run through photo left-to-right. South end of Upper Arrow Lake at far left. Dispatch island just left of centre. McDonald Creek valley runs east from East Demars in background. Johnny Reid farm behind West Demars wharf at bottom centre right.
Purchase Print