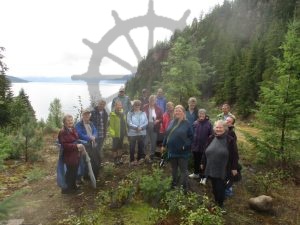 :
:
:
: 2018-09-16
: Arrow Lakes Historical Society
: 2010s, Arrow Lakes Historical Society, Bluebell Mine, Bone; Kathleen 'Kathy' (Kirk), Buckrell; Dave, DeSandoli; Susan, Detta; Gale (Nelson), Froese; Cornelius, Froese; Kathy (Giraud), Galena Bay (Kootenay Lake), grave marker, Hammill; Thomas, Kirk; Donald, Kootenay Lake, Kusch; Kyle, mining, Neidhardt; Bianca, Nesteroff; Greg, Parent; Rosemarie (Portelance), Taylor; Marilyn, Turner; Terry, Ure; Frances, and Winje-Nesteroff; Anitra
: Riondel
:
1 colour photograph (15.1 cm x 10.2 cm)
:
Arrow Lakes Historical Society members pose at site of former Bluebell Mine/grave marker of Thomas Hammill overlooking Kootenay Lake, ALHS field trip to Riondel, 16 September 2018. TOP (l-r): Dave Buckrell, Donald Kirk, Greg Nesteroff. BOT: Rosemarie Parent, Terry Turner (tour guide), Joachim ?, Bianca Neidhardt, Kathy Bone, Gale Detta, Kathy Froese, Anitra Winje-Nesteroff, Susan DeSandoli, Marilyn Taylor, Fran Ure (front), Cornelius Froese (rear), Kyle Kusch.
Purchase Print