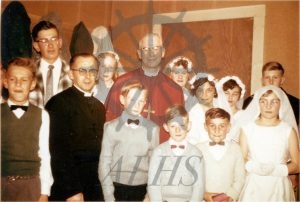 : 2022.025.006
:
:
: 1959--
: 1950s, Allen; Terryl (Milne), Baker; Sharon (Pender), Bakker; Sharon, church, Coleman; Rt. Rev. W.R. 'Bill', confirmation, Cooper; Peter, Ewings; Brian, Farrer; Alan, Farrer; Charles, Hyraniuk; Jimmy, Jackson; Pat, Milne; Sheila, Penner; Penny (Jackson), St. Agnes Anglican Church (original), and White; Rev. E. Godfrey
: Edgewood
:
1 photograph : col. ; 4000 x 2698 pixels
:
Confirmation class of 1959, St. Agnes Anglican Church, Edgewood. TOP (l-r): Alan Farrer, Sharon Bakker, Sharon Baker, Terryl Milne, Sheila Milne, Peter Cooper. BOT: Charles Farrer, Rev. Godfrey White, Bishop W.R. Coleman, Jimmy Hyraniuk, Brian Ewings, Pat Jackson, Penny Jackson. Photo by Wilfrid Jowett.
Purchase Print