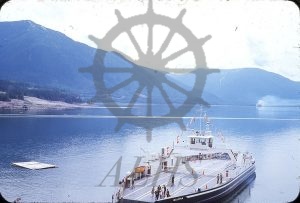 : 2022.009.4.11
: R40-28
:
: 1969-05-16
: 1960s, Arrow Lakes flooding (Columbia River Treaty), Box Mountain, ferry, fire, MV Galena, Scalping Knife Mountain, Upper Arrow Lake, and Upper Arrow Lake Ferry
: Nakusp
:
1 photograph : col. slide ; 35 mm
:
Crowd gathered on deck of new MV Galena ferry for tour and christening ceremony, Upper Arrow Lake at Nakusp, 16 May 1969. Box Mountain at top left, Scalping Knife Mountain at top right. Fires in background are the burning of brush and debris piles associated with the clearing of land in advance of flooding to be created by the Arrow (Hugh Keenleyside) Dam.
Purchase Print